Current Mind Pad Editorial Board, 2016-2017
---
Editor-in-Chief:
Kyrsten Grimes (kyrsten.grimes@mail.utoronto.ca)
Kyrsten is currently completing her Ph.D. in Clinical Psychology at the University of Toronto Scarborough (UTSC). She has a strong interest in the study of psychopathology, treatment outcome, and the ecological validity of assessment measures. Her program of research pertains to the development of psychosis in schizophrenia spectrum disorders. Her dissertation work focuses on examining the efficacy of psychosocial interventions for psychosis and the use of virtual reality in these interventions. Clinically, she is specializing in forensic psychology and clinical neuropsychology, with an emphasis on the intersection between neuropsychology and mental illness. Kyrsten serves as Editor-in-Chief for Mind Pad, a publication distributed by the Section for Students in Psychology. She also serves as Review Editor of Crime Scene, a publication distributed by the Criminal Justice Psychology Section. Additionally, she is one of UTSC's Canadian Student Representatives for the National Academy of Neuropsychology.
Associate Editors:
Mariem Boukadi
Mariem Boukadi is a PhD candidate in Neuropsychology and Cognitive Sciences at the University of Montreal and is affiliated to the Research Center of the Institut universitaire de gériatrie de Montréal (CRIUGM). Mariem has very diverse and multidisciplinary research interests and experience. She has obtained a Master's degree in Psycholinguistics from Université Laval, where she has worked on bilingual language control and production, psycholinguistic normative databases, as well as surface dyslexia in Semantic Dementia. She has also worked on projects investigating semantic impairments in Alzheimer's disease and Semantic Dementia. Her doctoral thesis focuses on structural neuroimaging biomarkers of language recovery after a stroke. More specifically, she investigates how post-stroke gray and white matter longitudinal changes affect recovery of language functions. Mariem's work is supported by a three-year doctoral scholarship from the Fonds de recherche du Québec – Santé (FRQS) and Heart and Stroke Foundation of Canada.
Sarah Bourdeau
Sarah Bourdeau is a graduate student in industrial and organizational psychology at University of Quebec in Montreal. Her research focuses on motivation and passion for work, social influences and work-life balance. Specifically, her thesis will investigate the role of social norms with regards with the use of work-life policies. Her work was awarded with prestigious academic awards, including a three years Doctoral Scholarship from the Social Sciences and Humanities Research Council (SSHRC), a Joseph Armand Bombardier Scholarship (BESC M, SSHRC) and various student awards (ex.: Student Award for the best article, Department of psychology, UQAM, 2015; Kenneth Dion Award, CPA, 2013). Involved in various projects, Sarah is also a reviewer for the European Management Journal and the Canadian Journal of Administrative Sciences. When she's not working, Sarah is probably taking a walk or playing with Winston, her wire fox terrier, at the gym or trying a new experiment in the kitchen.
---
Graduate Student Reviewers:
Elliott Lee
I am a PhD Candidate at the University of Victoria in beautiful British Columbia. Just as social psychology spans a wide breadth of topics, so do my research interests. I study environmental issues and how we can alter our behaviour and attitudes to effectively reduce human impact upon on the earth. Relatedly, I am interested in how nature affects our well-being. This area of research is the focus of my doctoral dissertation. I believe that we could all stand to improve our well-being, both hedonic and eudaimonic, and that it should receive more focus within our national policies.
Living in Victoria lends itself to my active lifestyle and love of food. There are plenty of amazing hikes nearby and restaurants to end the day at.
Maxime Montembeault
I am a PhD candidate in clinical Neuropsychology at the University of Montreal and I am also affiliated with Centre de Recherche de l'Institut Universitaire de Gériatrie de Montréal (CRIUGM). My research interests include language, memory (episodic, semantic), neuroimaging, brain connectivity, aging, dementias (Alzheimer's disease and semantic dementia) and many more. More precisely, for my doctoral thesis, I am examining 1) structural connectivity of large-scale brain networks in Alzheimer's disease; 2) language symptoms (connected speech, naming, semantic memory) and their neural correlates in Alzheimer's disease and semantic dementia. My research is funded by the Alzheimer Society of Canada and Fonds de recherche québécois en santé (FRQS). In the past, I have also worked on poststroke aphasia and Autism Spectrum Disorders. Finally, I also have extensive clinical experience evaluating children and adults with attention deficit hyperactivity disorder (ADHD), learning disorders (i.e. dyslexia), dysphasia, intellectual disability, etc.
Suzanne Chomycz
Suzanne Chomycz is in her final year of the PhD program in Clinical Psychology at Lakehead University. Her dissertation is investigating personality factors and motives related to heavy episodic (binge) drinking in young adults. In addition to teaching a research methods course, she is also involved in several program evaluations surrounding clinically significant change and client satisfaction in hospital and community child mental health settings.
Lillian MacNeill
Nicole Poirier
Nicole Poirier is in her second year of the PhD program in Clinical Psychology at Lakehead University in Thunder Bay, Ontario. Her research is focused primarily in Indigenous mental health and addictions and her dissertation is a longitudinal evaluation of the first on-reserve methadone maintenance therapy program in Canada. The project will explore this program's ability to overcome cultural barriers to treatment as well as the impact of culturally relevant treatment for First Nations clients. Nicole's other research interests include chronic pain and its relation to addiction, as well as forensic and correctional psychology.
Lindsay Huska
Sara Holland
---
Undergraduate Editors:
Ratanak Ly
Ratanak previously completed an Honours BSc in Biomedical Toxicology at the University of Guelph, but his travels and experiences brought him back to Guelph to complete an Honours Bachelor of Arts in Psychology with the hopes of doing more work in the field. On campus, he is actively involved with many campus initiatives. Specifically, he has contributed as an assistant editor to Guelph's undergraduate research journal, Studies by Undergraduate Researchers at Guelph (SURG); an initiative administered by the University's Office of Research and the Library. Ratanak has research interests in understanding the impact of cross-cultural differences between societies and how this may relate to issues in trauma psychology. He is in the process of preparing work on his Honours Thesis and hopes to integrate these interests in some capacity.
Patryk Siergiej
I am a Bachelor of Science Psychology student at Red Deer College. I am planning on transferring and completing an Honours degree at University of Alberta. I will be a CPA's Student Representative at RDC in 2015/16 academic year. I hope to get more students interested in psychology. My areas of interest include biological, child and clinical psychology. I am especially interested in discrimination: why we discriminate and what the effects of it on the victims are.
Hayley Riel
I am completing the final year of my Honours Bachelor degree in Psychology at the University of Manitoba. During my degree I have been the Undergraduate Campus Representative of the CPA for three years, I have been involved in several research projects, and have conducted two psychological studies of my own. My research interests are within severe psychopathologies such as personality disorders, psychosis, psychopathy, dissociative disorders, and schizophrenia. I enjoy studying what cognitive and affective traits take place in psychopathology and how those characteristics can manifest into violent crime or abuse, and what the most valid and reliable ways of detecting psychopathology in individuals are. I plan on attending graduate school in Clinical Psychology in the fall of 2016.
Colton Macdonald
Colton Macdonald is in his third year of undergraduate studies in psychology at the University of Regina. With aspirations to complete a masters and PhD in psychology he has become involved in many ways with the purpose of giving back to the mental health community and taking lessons away from every endeavour. Colton's involvement has seen him sit as a student representative with the Rural and Northern Section of the CPA. He has volunteered, and continues to volunteer in a number of psychology research labs on campus. Along with recently assuming the role of president of the Psychology Student's Association. Colton's research interests lay in neuroscience, specifically, the lateralization of the amygdala as well as the role the brain plays in suicidal behaviour.
Sara Ahmadian
---
Historical Contributors: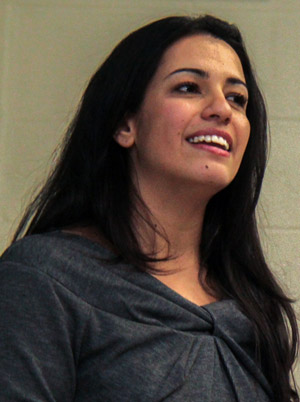 Rana Pishva (Founder)
I believe that students should be proactive in their education, and ultimately, MindPad is about creating learning opportunities. In proposing the project, I wanted to create a platform where psychology students could sharpen their writing skills, experience the editing and publication process, and learn to critically review articles. I wanted MindPad to be a safe and enriching environment where students could grow professionally. The CPA head office was exceptionally supportive of the project, and MindPad was born with the help of my colleagues, Karen Cohen, Brenden Sommerhalder, and Tyler Stacey-Holmes (just to name a few). I was excited to witness students' enthusiasm to write or edit for MindPad. As the Editor-in-Chief, I met interesting people, learned about the editing process, and gained confidence in my professional skills.
I am currently a Doctoral Candidate in Clinical psychology at Queen's University in Kingston, Ontario. My research and clinical interests are child psychopathology, with a focus on parents' role in the treatment of childhood anxiety disorders. I also work with youth who have experienced trauma, as well as forensic populations. As an avid yogi, I initiated a project to explore the use of Yoga as a complementary therapeutic approach. Since leaving MindPad, I continued to write about my experiences and observations as a graduate student in a blog, "Average: Chronicles of a Phd" (http://averagechronicles.wordpress.com/).
I encourage students to seek and create opportunities to grow as professionals,
Kindly,
Rana Pishva