Le bulletin rédigé et publié par les étudiants de la Société canadienne de la psychologie.
Rédactrice en chef:
Alexandra Richard
McGill University
Email: pastchair.cpastudentsection@gmail.com
L'édition automne 2020 de Notes d'idées, deuxième numéro du volume 9, est maintenant disponible: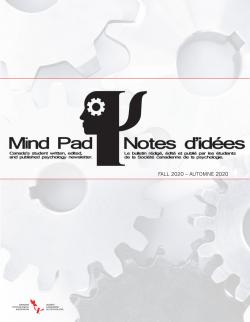 ou (PDF)
---
Notre mandate
Le mandat de Notes d'idées a deux objectifs :
Fournir un bulletin professionnel rédigé et évalué par les étudiants en psychologie qui sont membres affiliés de la Société Canadienne de Psychologie. Le contenu devrait être d'intérêt à tous ceux qui pratiquent et étudient la psychologie, mais les étudiants en psychologie sont les lecteurs cibles.
Fournir aux étudiants en psychologie l'opportunité de connaitre le processus formel de soumission y compris la soumission, la révision, et la resoumission du point de vue d'auteur et d'évaluateur/rédacteur.
Notes d'idées publie un éventail de soumissions, qui comprend, mais n'est pas limité à :
Résumés de recherche originale (cliniques ou appliquées);
Revues de résumés;
Articles liés à une carrière en psychologie;
Articles d'opinion sur un sujet lié à la psychologie;
Réflexions sur les nouvelles tendances en psychologie ou en recherche de la psychologie;
Réflexions sur la psychologie dans les médias;
Rapports sur des conférences ou ateliers.
Students who are not enrolled in psychology programs may also submit a manuscript to the journal, if its subject-matter falls within one of the subfields of psychology.
We accept submissions on a rolling basis throughout the year.
---
Mind Pad Frequently Asked Questions
What is Mind Pad?
Mind Pad is a newsletter publication written, edited, and published by the CPA Section for students. All articles are peer reviewed by an editorial board composed of undergraduate and graduate students in psychology. Mind Pad is not an indexed journal.
How do I cite my Mind Pad article on my CV?
You can list your Mind Pad article on your CV using an APA format. For example:
Daskaluk, S. (2008). The interaction between child and parent characteristics on child outcomes. Mind Pad, 8(1), 8-12.
Once your article is officially accepted by the Mind Pad Editor-in-Chief, you may list it on your CV as "in press" until it is published in next Mind Pad issue.
How do I submit an article for consideration in Mind Pad?
All manuscript must be submitted using the submission template. Submissions guidelines can be found on the Editorial Policy page.
I have submitted my article – now what?
The Mind Pad editorial board is committed to completing a first review of submitted articles within a month of receiving the submission. After this initial review period, the Associate Editor will notify the submitter of the status of his or her submission. This may include acceptance, requests for editorial changes, rejection, etc. Unless the manuscript is rejected, the submitter is invited to revise and resubmit within two weeks. The reviewers will review the second version of the article. A final decision will then be communicated to the author. (Please note that more rounds of reviews may be required.)
I want to join the Mind Pad editorial board. How do I apply?
Applications for positions on the Mind Pad editorial board are accepted in late August or early September every year. The incoming Editor-in-Chief will post a notice on the Mind Pad website with an application deadline and will send a call for applications email through the CPA Section for Students listserv. General instructions and details about available positions, and this years application deadline, can be found here.
---