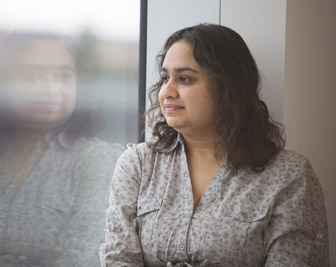 Vina Goghari
Dr. Vina Goghari is the Editor of the
Canadian Psychology
journal. The amount of pandemic-related research and article submissions has been overwhelming in the past few months. The upcoming COVID special edition of the journal will present papers that cover a very broad range of topics related to the pandemic.
Vina Goghari
Dr. Vina Goghari had big plans for 2020. There were going to be conferences that would synergize with her vacations – including one in Banff where she was planning to rent a cottage and hang out with some of her friends. A couple of talks in Vienna were going to allow her to explore the nearby areas and experience Austria for the first time. Instead her breaks disappeared, her workload increased threefold, and she ended up stuck at home with a kidney stone for five months. 2020, right?
Dr. Goghari is a professor at the University of Toronto where she is the Graduate Chair of the Clinical Psychology program. What interests us here at the moment is Dr. Goghari's position as the editor of Canadian Psychology/Psychologie canadienne, the flagship journal of the Canadian Psychological Association. The bulk of a journal editor's work is remote already, so very little has changed in that respect, but the pandemic has created a bit of a slowdown in the review process.
"The ability of academics to spend their time on peer review has been impacted. I find they've still been gracious, and people are still volunteering to review these papers, but sometimes we find that people need more leeway in terms of time to actually get us the review back. We've been lucky that both the authors and the reviewers are having a little bit more patience with each other, and the editor, and the associate editors. It allows us to make sure this process is still equitable and fair and we still get enough reviews."
Another thing that has, predictably, changed is the number of submissions Canadian Psychology is receiving concerning COVID itself. So many, that they have prepared a special issue just for the pandemic. Dr. Goghari says the volume of articles has been overwhelming.
"We did a call for COVID papers in May dealing with psychological perspectives on the pandemic – we feel a psychological, as well as a Canadian/International, lens is very important to helping people deal with the pandemic in terms of work and life balance and mental health. The Special Issue will be coming out in the next few weeks. We saw a record number of papers for that call. This was especially so (true) for the two of us who are the English-speaking editors ̶ we were fielding a tremendous number of papers! It was positive in the sense that the psychological perspective on the pandemic is resonating with people, but also really increased our workload, as we always want to ensure we do a professional job with all submissions. Luckily we were able to get through all of them, and I really think we have a fantastic special issue
Canadian Psychology is a generalist journal, which allowed Dr. Goghari and her team to design the COVID special issue with intention. They wanted the articles to cover a wide range of topics related to Canadians, and to reflect different parts of our society and our population. There are articles about work, sleep, mental health, adults, children, training, and much more. There are also two articles in French, and Dr. Goghari hopes that there is something for everybody in this journal issue.
Not only have they seen an increase in COVID papers, but papers regarding race-related issues that have become increasingly front and centre over the past year. More papers addressing topics such as mental health and racial disparities have been submitted. Dr. Goghari says she wishes this has also been the case for journal in the past given the importance of these societal issues, but is heartened to see that this is more of a focus now.
"One of the things COVID highlighted was that the pandemic doesn't affect everyone equally. There are certain groups that are more affected by the pandemic like the elderly, we know that there were racial disparities in both outcome and incidence of the virus. And so the two things came together – the societal tensions on race, but also highlighted and made worse by the COVID pandemic interacting with these factors."
Dr. Goghari says that she is encouraged by the rise in awareness created by the new focus on inequities and dismantling the systemic causes of racism. She is also encouraged by the number of papers she and her team are receiving surrounding COVID and expects that the studies launched later in the pandemic that focus on longer term impact, challenges, opportunities, and resilience, will produce some new, useful, and fascinating results. Dr. Goghari is above all an optimist. Even when it comes to missing out on some great trips, and a kidney stone!
"I find I don't really miss the things like travel – they were just perks. I miss seeing my friends and my family. I also had some interaction with the health care system because I had a kidney stone for five months. I was very grateful for all the people who are still doing ultrasounds and CT scans and keeping the hospitals clean for us. They were just so kind! Even though they themselves were dealing with all these things, I was touched by their professionalism and their help even while I could see the burden on the health care system. When the kidney stone clinic had to close, there was an onslaught of people and we all have to get in…it was a very eye opening experience. Given what the health care workers go through, they were tremendous even though they must be in a difficult situation. I think COVID plus a kidney stone made me grateful for all the smaller things!"