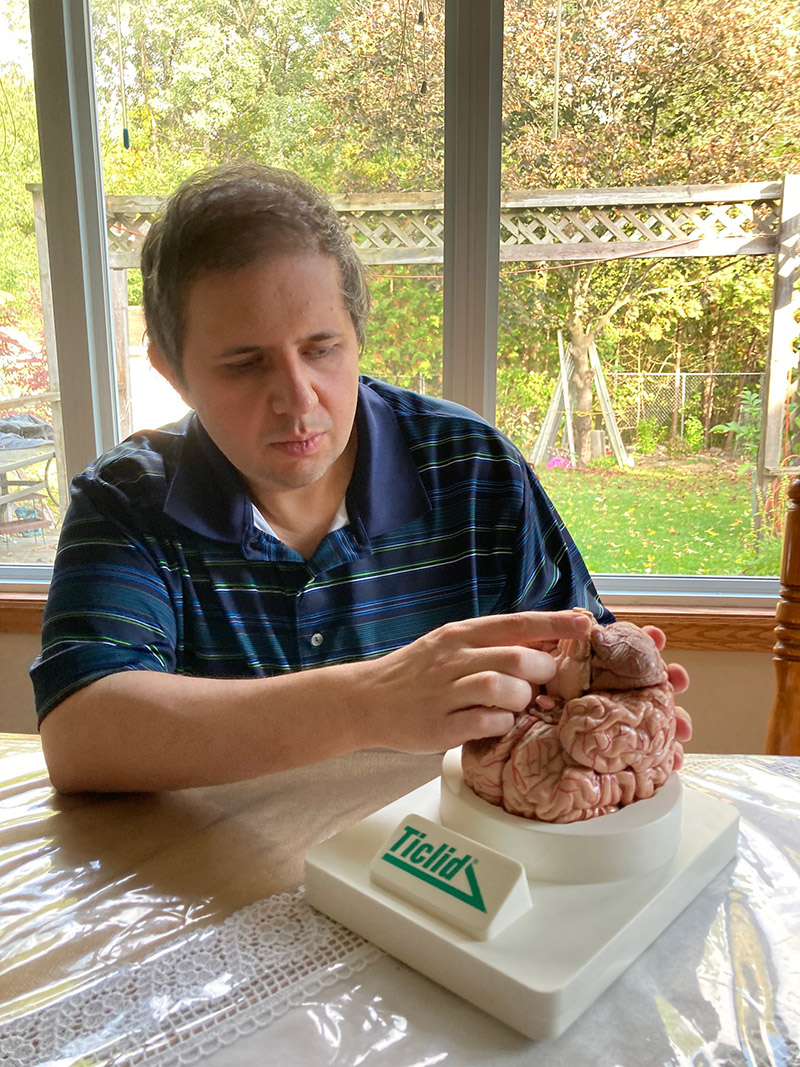 "Chris is awesome. He's an awesome person to work with, and he's taught me a lot. And even just in terms of accessibility I've learned so much. He's implemented a lot of things at Guelph-Humber that other people just didn't think of because they didn't have an accessibility problem. I've been really thankful to work with Chris."
– Angelisa Hatfield
Chris Schiafone is totally blind, but he wasn't always. He had a little bit of vision when he was younger, and says he's fortunate to be able to remember what things look like. It means that if you were to describe the spokes on a wheel or the shape of a pear, that he can visualize that pattern or shape. For people who are congenitally blind (since birth), however, these are more difficult concepts, and they will require a different kind of description of something. It makes things more difficult, in different ways, for a myriad of visually impaired people. And Chris advocates for all of them. Everything he has been doing in his four years of psychology has centred around trying to make the field of psychology more accessible for students with vision loss. All this with the hope that one day, there is a correction to the under-representation of visually impaired STEM students.
Chris is the CPA Campus Rep at the University of Guelph-Humber. He was formerly the Student Rep, a role now filled by his protégé Angelisa. Student Rep is just one of several roles Chris plays on the Guelph-Humber campus. He is also a committee member at Humber College for the Accessibility for Ontarians with Disabilities Act. He was a presenter in Halifax at the 2019 CPA Convention where he and his brother were facilitators of a forum called "Understanding the Needs of Disabled Students". And in September he presented, with his research team, a CPA-hosted workshop called "Making Science Accessible: A Co-Design of Non-visual Representations for Visually Impaired Students".
All of this is, of course, challenging. But it was the challenge that drew Chris to psychology in the first place. He had just completed a diploma in social service work at Seneca College, and was looking for something that would test him in a myriad of ways. While he knew psychology would be difficult, he says he had no idea what he'd be walking into on his first day.
"Scientific content can be very challenging for somebody who is visually impaired. There's an average of about 11 images for every 1,000 words in a scientific textbook, like a psychology textbook. It's very difficult for someone who's blind to scale through that kind of material."
While his passion for confronting and overcoming challenges was what drew Chris to Guelph-Humber and psychology, it was his Social Service work background at Seneca that he credits for imbuing him with the spirit of advocacy.
Chris' very first advocacy project outside of psychology at university began almost the moment he got to Guelph-Humber. When Chris first started there, four years ago, there was no Braille in the building at all. So in his first semester, he spent the whole summer working with the CNIB orientation and mobility instructor trying to learn the building and the campus. Chris is a guide dog user, and what that means is that he has to learn the building himself, and then try to teach the dog. And once he got his schedule for school, he had to train the dog to know where his lectures would take place.
Even once all those things were done, it was still very difficult. Every hallway had dozens of doors. Some lecture halls have two doors. Chris was still not completely sure he was walking into the correct classroom, despite the hours upon hours of orientation and dog training. So he advocated. Through the first semester. Into part of the second semester. Have Braille signs put up in the university building. He wrote up a document explaining it all, things like Braille signs are best suited to be on the side of the door near the handle so a person with vision loss can read the sign and find the handle at the same time.
TAKE FIVE WITH CHRIS SCHIAFONE
What is the psychological concept that blew you away when you first heard it?
The bystander effect, for sure. I'd say that because we talk about humans helping humans, and about people doing things in society, organizations that are reaching out to help for every cause under the sun. But then there's this whole concept of the bystander effect, and it's like "well, I'm not going to help, because somebody else will". And it's like, why would you wait for somebody else to do that if you can? I've witnessed this personally, and that's why it's one of the most fascinating things. After I learned about it in school, I started to be more mindful when I was doing things, to see where  this actually occurs. And unfortunately, it probably occurs more often than we'd like it to.
Do you have a sport that you like to watch or play, and what is it?
Not an avid follower, but I do follow hockey a little bit. I find it to be one of the best sports being commentated. There's a lot of talking, and I find it much easier to follow. I watched football before I lost my vision, but now I find following football too challenging.
If you were to write a book about yourself, what would you name it and why
Possibly…a journey through experience. I'd call it that because I don't want to write it as 'look at me I'm totally blind', but rather as a journey of someone who starts as a low-vision person, and ends up totally blind. What that journey looks like in terms of education, in terms of finding work, and finally in studying neuroscience. Finding out that I had a big interest in neuroscience, and what that meant – what I had to do – to make that happen. And the supports as well – you can't always do everything yourself. And we need help more often than we think we do.
Top three websites or apps you could not live without and why
I use a few apps that are made for the visually impaired. One I just started using again is called BlindSquare. It's a GPS navigation app for people who are visually impaired. We can punch in addresses and it's almost like using a Garmin or a TomTom or another regular GPS device. Google Maps actually works quite well too, so I do use both, depending on which one gives me better data! Also, I've always used Zoom, but since the pandemic started I've had to get to know Slack and Microsoft Teams, sometimes at rapid speeds which included accessibility testing to make sure I am able to use them with Screen Readers.
Favourite quote
No. I kind of have my own, that I live by. I actually closed my presentation at CPA last year with this one. "Know your goals and the pathway to get there. Don't let any barriers stand in your way. Persistence and a positive attitude will get you where you need to go."
At the time, Chris believes he was the only blind student at Guelph-Humber. He says his younger brother had studied there previously, but he just managed and didn't worry about Braille. But for Chris, it comes down to different ways of learning things. Something that he takes into the rest of his schooling as well.
"If you do not have any vision, you start to lose out on some of the content that your peers have. That can even come down to learning styles, like if you're somebody who learns better by seeing a diagram, or a 3-dimensional model. The 3D model is fine, but the images are not there for somebody like us unless they're made into something tactile like a raised-line graphic. That's not something that traditionally just happens in the classroom, unless the professor has prior knowledge around accessible content creation and is really, really on the ball with inclusivity."
Now that Guelph-Humber has Braille throughout the building, Chris is confident and content in the knowledge that the next blind student who attends will have an easier time navigating the campus as a result, and that was reason enough to make sure it got done.
When we spoke for this interview, Chris expressed his love for music, and especially the work of Van Halen. He chose David Lee Roth over Sammy Hagar as his favourite lead singer, but that was a marginal call – it was the music he loved most. Sadly, Eddie Van Halen passed away from lung cancer shortly after we spoke. Just another thing to make 2020 a little bit more difficult.
Another difficulty is that COVID has forced Chris to do his 2020 schooling online, he's a little apprehensive. Mostly about how the online content will be structured by his professors. Chris is not the kind of person who tackles an issue when it arises. Rather, he's the kind of person who anticipates the issue ahead of time, and works out a way to ensure that the issue never comes up. Before starting any course, he reviews the entire syllabus and identifies the potential stumbling blocks along the way. He then meets with his professor to outline those potential challenges in order to have a plan in place. This may not be possible in the current school year, which presents a whole new set of tests for both Chris and his professors. He says he has a couple of particularly engaged profs; Deena and Amanda were extremely instrumental in ensuring access to their courses, even if it meant one-to-one time explaining challenges related to content specific to their Quantification and Neuroscience courses.
"I'm a big fan of neuroscience, which is where my recent Thesis research and CPA Workshop came from and a lot of my research stems from neuroscience. And in that class the professor, Dr. Mandy Wintink, did some things that were very simple, but very helpful. For example, the professor was giving a lecture on the neuron, and I was sitting there trying to visualize what it could possibly look like. How is it structured, where are the dendrites, all these different components of a neuron. Unless it's explained in very specific terms, it's challenging to picture what a neuron might look like if you've never seen it or felt it. So Dr. Winktink went out and bought candy. And she put us in groups where we made a neuron graphic on a piece of paper using candy. 3D models can be very expensive, sometimes into the thousands of dollars. So it's not the expectation that we'd have a 3D model of a neuron just sitting there. But she found a way to include me 100% in the class through a simple activity that is likely MUCH more cost-effective."
If there's one thing to know about Chris it's that not only overcoming challenges but also anticipating those challenges, is his thing. It's what he does regularly, and what he does best. We can be certain that he will continue his schooling, his advocacy work, and his exemplary work as a CPA Student Rep through 2020 and beyond.
Postscript: RIP, Eddie Van Halen.