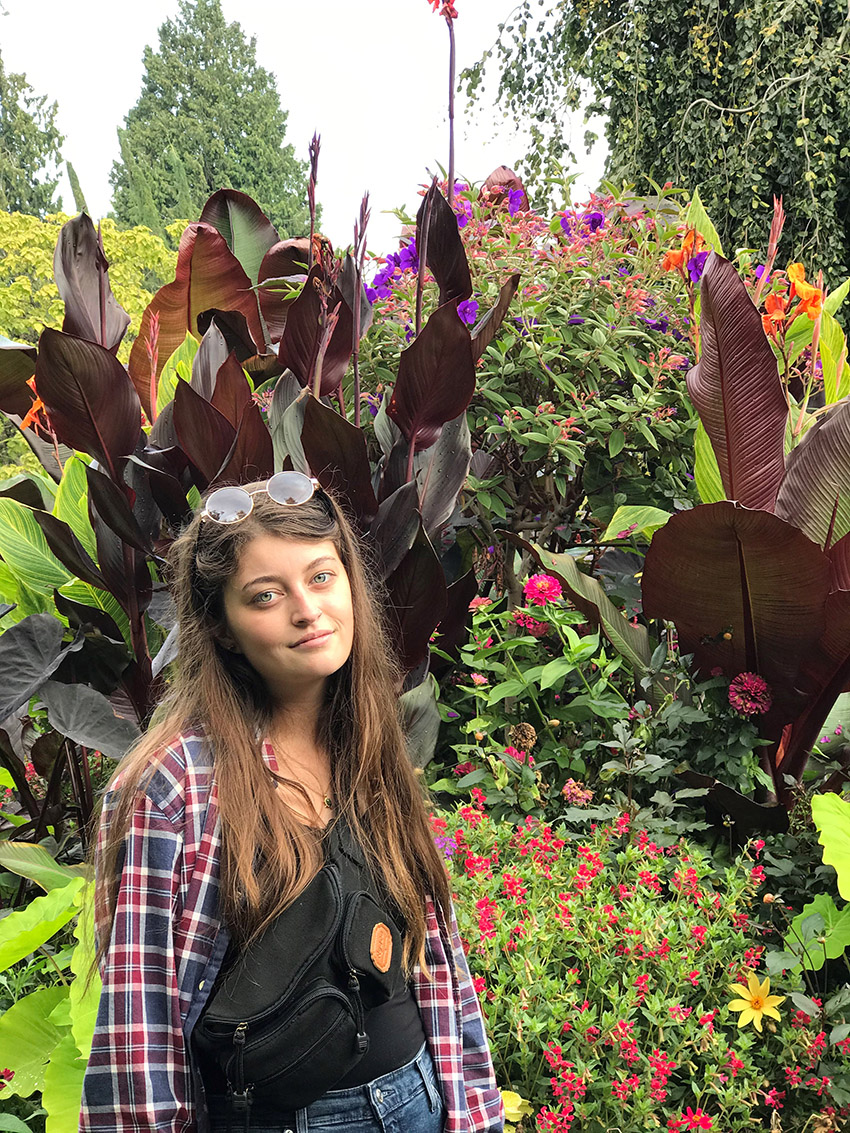 Angelisa Hatfield has been sitting still for an entire hour. She's on a Zoom call, and stuck outside on her boyfriend's porch – the result of having a hole in her own room repaired while she temporarily resides five minutes away. I get the sense that sitting in one place for something like a Zoom call is atypical for Angelisa, who is always on the move.
We're talking about psychology, and the CPA student rep program. Angelisa is just starting her second year as the undergrad student rep at the University of Guelph-Humber in Toronto. Guelph-Humber does only undergrad programs, so that makes Angelisa one of only two student reps on the campus (the other, Chris Schiafone, is the campus rep).
"It's a small school, so you get to connect with students a lot more. I'm so involved on campus that everything is kind of intertwined for me now. I did research with the assistant program head in facial recognition, and then working at the front desk at school under the main office's supervision, working in student services – everything connects so quickly that it kind of blurs the lines between my roles.
For example, I'm now doing CPA events with Career Services, because my career coordinator is so good at planning events, and she has so many ideas, that we thought 'why not just collaborate – no reason to be doing this separately when we could be doing it together'. So now we'll do something like a big psychology dinner, bringing the CPA's connections in with the school's connections. We're talking about bringing Addiction Rehab Toronto (more on them later) in for coffee time chats.
Guelph-Humber is one of those communities where there's a lot of community connection and involvement, and I've found myself being the networking tool, especially remotely!"
Before she started her university career in psychology, she considered other fields – she thought about nursing, social work, radiology, cardiology…the list goes on. Basically, she knew she wanted to be in what she calls the 'helping fields' – somewhere where she could impact the lives of other people. Psychology seemed like a field where you could learn a LOT of different things, and the inclusion of a co-op program at Guelph-Humber meant she could get hands-on experience helping people. That sealed the deal.
Even now, in the summer months away from school and in the middle of a pandemic, Angelisa is helping people every day. She is a volunteer at Addiction Rehab Toronto (A.R.T.) a private rehab centre in Toronto, and she shows up randomly even when she doesn't have a volunteer shift. ART is a lot like Angelisa herself, in that it has a wide variety of interests and specialties. It offers a nutrition program, group therapy, CBT and DBT, mindfulness activities, psychotherapists and addiction counselors…the list goes on.
TAKE FIVE with Angelisa Hatfield
What is the psychological concept that blew you away when you first heard it?
For me, it's the self-fulfilling prophecy. It was a huge realization that our thoughts have more power than we thought they did. And also how when we impose our thoughts on other people sometimes it can influence them too. I've thought a lot about how self-fulfilling prophecy interacts with racism. For example if a teacher has an idea about a certain student of a certain race, and thinks they're going to behave a certain way, then they treat them that way, and that student begins behaving that way. It becomes this cycle that fulfills itself. But you can also use it on the positive side and if you think positively you can bring about positive things in your life and that of others.
Top three websites or apps you could not live without and why
Definitely news apps. I need news. Not knowing what's going on makes me scared. Also Twitter, that's the social media I'm on all the time. It's a place where people can dump their ideas and feelings and people can relate to each other. And it's funny sometimes to watch people argue while you sit with popcorn. And the last one is Google – I use it all the time, any time I don't know something we're Googling it. And it's something where if you spent two minutes on Google you can spare a lot of time arguing with someone, or saying something ignorant.
Favourite book
It sounds really cliché, but it's Perks of Being a Wallflower by Stephen Chbosky. It's a good book and I could really relate to it at the time. It kind of introduced me to mental health in my pre-teen years. And another is It's Kind of a Funny Story by Ned Vizzini. Both of these were books that were about mental health that were adapted into movies that I didn't hate. And they were books that needed to become coming-of-age movies.
If you could spend a day in someone else's shoes who would it be and why?
I've always wanted to be an eagle, or a hummingbird. Just having the ability to fly, and go wherever you want whenever you want and make a home wherever it is you land. I also feel like birds have a sense of community – you hear one bird chirp, and then three others come, and they're never alone. For me it was always birds. My next tattoo is a bird. The hummingbird reminds me of myself, always zooming around from one thing to another, always with others and arguing and moving. And the eagle reminds me of my heritage. I'm from the Azores, an island off Portugal, and there's an eagle in our flag.
If you could become an expert at something outside psychology, what would it be?
Everything, ideally. But if I had to pick just one thing, it would probably be architecture. Or home design. Or environmentalism, animals, biology, and how the ecosystem works.
"Addiction is a [field] where you don't have to choose a specialty. You can learn a little bit of everything. There are people who have all sorts of mental health problems, and all sorts of backgrounds. I was struggling with 'what do I focus on – just schizophrenia, just PTSD, just eating disorders' but at an addiction centre you deal with everything because everyone has something. It's a very diverse place, so it's a great way to get a lot of perspectives and world views from a wide variety of people."
Angelisa collects diverse perspectives and world views, and has about as open a mind as anyone I've ever met. She recognizes in herself the desire to learn everything she can about every subject she can, and she will move on quickly after learning something to whatever is next. She can't listen to the same artist twice in a row on her phone's playlist, and will skip and move on. She identifies with hummingbirds, who aren't content with sampling just one flower, but who flit from one to the other so they can take in the absolute most that the field has to offer. The only thing consistent in this constant movement is that the learning she does is geared toward just one thing – helping others.
She says that one thing learning psychology has meant for her is that she can no longer get annoyed with other people. Even if they're behaving in a way that's injurious to her, or doing something she knows to be wrong, she understands at a base level why they're behaving that way, and for that reason interpersonal anger is not an option.
In fact, she has a tattoo of a bee – because, she says, 'even though life stings, bees are necessary'. With that logic, you can't even be mad at a bee that stings you!
Even COVID is not making Angelisa angry, it's something that gives her an opportunity to maintain her connections and forge new ones remotely as she plans for the upcoming school year. Where she will continue to volunteer with ART, work in student services, be involved in every aspect of campus life, and get on with being a CPA undergrad student rep. Much like everything else she does, Angelisa thinks of her nomination to be a student rep as a sort of happenstance.
"I got really close with my program head and with Chris (Schiafone, the Campus Rep), and they said I'd be a good fit. [Being an undergrad CPA rep] was something that I just fell into randomly, but I'm glad that I did. It opened up a lot of doors and it let me use my background and skills the way I wanted to. Chris has given me a lot of freedom with it, and let me take it where I want it to go. So it's been nice."
For this, her last year at Guelph-Humber, Angelisa will serve as CPA undergraduate rep and complete her bachelor's degree. After that it's on to more learning and more schooling. And then? Maybe she'll continue working in the addiction field, where the variety of the job is appealing. Maybe as a researcher, or a clinician, or something else entirely. Maybe all of it at once.
Along the way she will find time, every now and then, to sit in one place and do one thing for an hour. Even if it's to get a hummingbird tattoo that matches the bee.