This call for applications for TUTOR-PHC is open to graduate students, post-doctoral fellows, mid-career clinicians, and decision makers from across primary health care.
What is the program TUTOR-PHC?
Transdisciplinary Understandings and Training on Research – Primary Health Care, is a one-year, pan-Canadian interdisciplinary research capacity building program that has been training primary and integrated health care researchers and decision-makers from family medicine, nursing, psychology, epidemiology, social work, occupational therapy, education, policy and many other disciplines since 2003.
Why apply?
-Primary health care interdisciplinary research training
-Earn University Credit & CME credits
-Valuable feedback on your own primary health care research
-Gain increased knowledge and skills in Patient-Oriented Research
–Mentorship from experienced interdisciplinary primary health care researchers and decision-makers
–NETWORKING experiences with research mentors & 200+ pan-Canadian / international alumni
–Interdisciplinary team experience
TUTOR-PHC trainees gain enhanced evidence-informed decision making & leadership skills to help them become the primary health care leaders of tomorrow.
-Each trainee will be responsible for a $3000 CND program fee
When is the deadline to apply?
December 2, 2019
For more information, please go to the website at: www.uwo.ca/fammed/csfm/tutor-phc
Please contact Project Coordinator, Rob Van Hoorn (tutor@uwo.ca) if you are interested in applying.
Sincerely,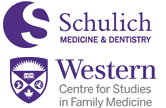 Rob Van Hoorn
Project Coordinator
Transdisciplinary Understanding and Training on Research – Primary Health Care (TUTOR-PHC)
Centre for Studies in Family Medicine
Schulich School of Medicine & Dentistry
Western University
Western Centre for Public Health and Family Medicine
1151 Richmond St
London, ON N6A 3K7
519-661-2111 ext. 22089
Robert.VanHoorn@schulich.uwo.ca
Tutor@uwo.ca