The field of psychology is wide ranging and touches on innumerable subjects in the public discourse. To add the perspectives of psychologists to topical issues, CPA has launched the podcast Mind Full. Listen below for subjects that are important to Canadians, delivered through a psychological lens.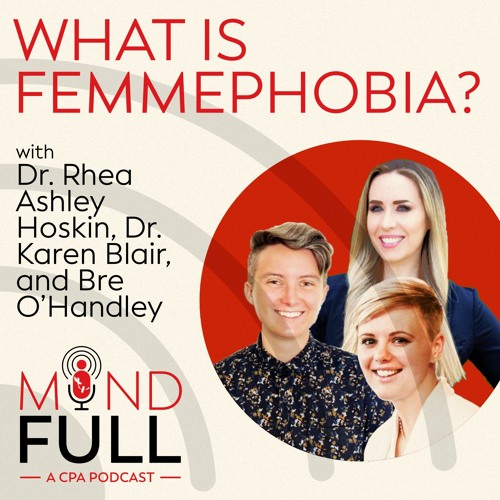 We speak with members of the Sexual Orientation and Gender Identity section about issues facing the LGBTQ+ community during the pandemic, the history of the fight for marriage equality and the more recent effort to ban conversion therapy. We also learn a new term: 'Femmephobia'.
---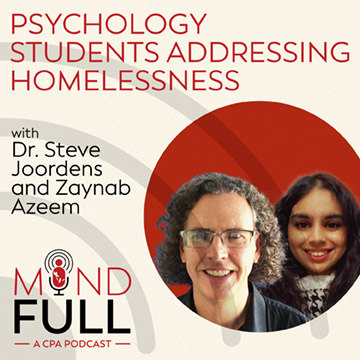 Dr. Steve Joordens gave his first-year psychology class a group project – bust some myths around homelessness by collaborating with a local organization. Zaynab Azeem was inspired to work with Blankets for TO, and has turned that inspiration into a podcast of her own!
---
PROFILES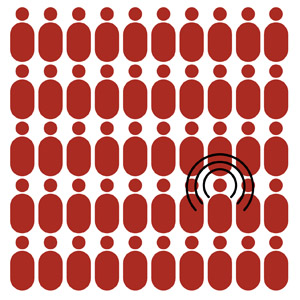 Psychologists, students, and others with psychology backgrounds, are doing incredible things across Canada. Here, we highlight just a few of those people who are helping others and living interesting professional, and personal, lives of their own.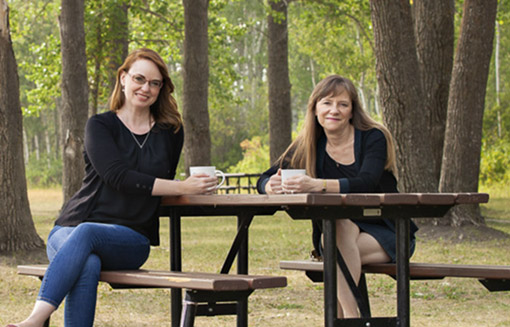 Drs. Karen Dyck and Melissa Tiessen
started the
Intentional Therapist
initiative to help female practitioners with self-care. They will be hosting a
pre-convention workshop at the 2022 CPA Convention
in Calgary.
About Karen Dyck and Melissa Tiessen
Intentional Therapist
It was September 2007 and Melissa Tiessen had just begun her year long post-doctoral residency with the University of Manitoba's Rural and Northern Psychology Programme, where her primary supervisor was Dr. Karen Dyck.  Melissa was no stranger to rural and northern living, as she grew up in a northern Manitoba community.  Karen was one of the first psychologists hired into the Rural and Northern Psychology Programme in 1997.  Although Karen wasn't raised in a rural or northern community, she was from Manitoba, and her interest in rural and northern psychology came about during the completion of her doctoral degree in clinical psychology at the University of South Dakota; a program that specialized in community and cross-cultural psychology.  Little did Melissa and Karen know at the time, that this would be only the start of a long-term relationship that would move from supervisor-supervisee, to colleagues, to friends, and eventually to co-founders of Intentional Therapist.
During the 15-year span of their relationship, Dr. Melissa Tiessen and Dr. Karen Dyck shared many professional experiences, from working within the public health system in rural Manitoba to eventually moving to private practice.  Although Melissa left Manitoba in 2010, they continued to connect with one another and have in-person visits when their travels took them to similar locations.  It was during one of these visits in Manitoba in 2018, when Melissa and Karen began discussing self-care, burnout, and many of the issues affecting psychologists and other mental health professionals.  Having worked in both the public and private healthcare systems, they observed and experienced firsthand, some of the challenges mental health professionals can experience related to self-care.  They reflected on how these challenges can be similar across all mental health professionals but that there may also be some unique challenges related, for example, to the work setting (e.g., rural and northern mental health clinicians may experience equally impactful but different challenges than their urban counterparts) and gender.
And so it was that Melissa and Karen came up with the idea of The Intentional Therapist, an online community that provides resources, workshops, newsletters, and – most importantly – connections to other female mental health professionals. The reason they chose to focus on female practitioners specifically is that, in addition to the pressures and stresses that affect all mental health professionals, women face a few extra hurdles. Melissa explains,
"The biggest factor that affects female mental health professionals in terms of self-care challenges is gender socialization. Many women grow up from the day they're born being exposed to different messages than those who identify as male. These messages are very much about taking care of others, doing for others, and prioritizing others. Sometimes it can be good to put others' needs before your own, but that can create a scenario where a girl becomes a woman and goes into a care-taking profession. She has been receiving these messages about taking care of others in her personal life, and now it is part of her professional life as well. It can then become very difficult to do what one needs to take care of oneself."
This gender socialization has become even more scrutinized during the past two years during the pandemic. Women, including those with high-paying professional careers, have often found themselves taking on more archaic gender roles. The work of men has, in many cases, become more prioritized while the work of women becomes diminished in order to take on caregiving roles for children or elderly parents.
Karen is a caregiver to elderly parents as well as a clinical psychologist in private practice in Oakbank, Manitoba. She says that work and caregiving are not the only places where there is a discrepancy. Leisure time for women has also, historically, been tied to their partner's leisure time. As men's status and income improved, they had more access to leisure. Women's leisure then became tied to that of their partner, and they were often not entitled to their own spare time on their own terms. Leisure activities being so important for self-care, this can make taking time for oneself even more difficult.
So what does that self-care look like? For Karen and Melissa it comes down to the four C's. The first is 'connection' (like the network of like-minded mental health professionals that form the Intentional Therapist). The second is 'compassion' (toward oneself, toward your clients). The third is 'courage' (meaning doing something that may cause you discomfort). For many mental health professionals, any discussion around money can feel awkward. But raising your fees, for example, might be a necessity. Having that initial uncomfortable conversation can make future conversations of a similar nature much easier.
The final C is 'creativity'. As Karen says, self-care involves a lot more than just chocolates and a bubble bath. Creativity and a playful attitude can help people find humour in their every day lives and discover activities that help them cope. These activities, and this outlook, is different from person to person. While Karen and Melissa happen to share a love for cake decorating, that certainly isn't the case for everyone.
For some it might be running, for others painting, and for others it may be weaving plastic bags into doormats (like Melissa did during the pandemic). The important thing is that self-care is intentional. That it is made a priority, and that it remains important day in and day out. Hence The 'Intentional' Therapist. Melissa and Karen's initiative is meant to be pro-active, to reach practitioners before they start to see the symptoms of burnout. Their newsletter, workshops (including a pre-convention workshop at this year's CPA Convention), and network of female mental health professionals is intended to serve as a kind of regular reminder. You are important too – and in order to provide great care for your clients, you must also take great care of yourself.
---
Student Spotlight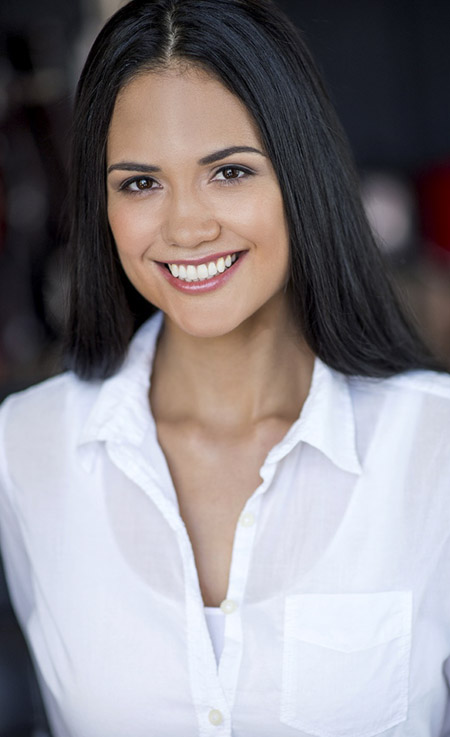 Alejandra Botia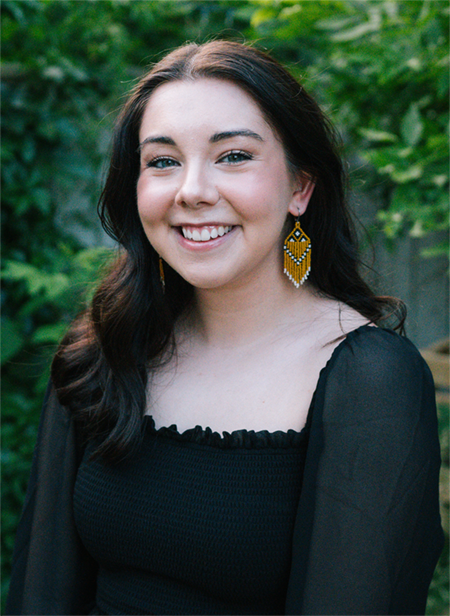 Emily Winters
Alejandra Botia and Emily Winters, Students in Psychology
Students in psychology, like students everywhere, have had a tough adjustment to make these last two years. Alejandra Botia and Emily Winters spoke to us about what they're doing to help their fellow students navigate the new challenges presented by COVID.
About Alejandra Botia and Emily Winters
Emily Winters is much less green, about three and a half feet taller, and speaks much less cryptically than Yoda. She is a doctoral student in clinical psychology and the University of Regina, and the first member of the JEDI executive of the CPA Section for Students. This is the first year the Student Section has had an Justice, Equity, Diversity, and Inclusion executive – and yes, the name was an intentional choice thanks to input from other student members.
"I'm the first person in this role, and I was excited to see it created. We've already started recruiting a bunch of volunteers to form a JEDI committee, and that should be on the way soon. Their primary role will be in compiling lists of resources to be made available to section members. We're also hoping to develop an event for the upcoming convention in 2022 targeted toward students in the area of justice, equity, diversity, and inclusion."
When the Jedi High Council was convened, the members were chosen very intentionally. Plo Koon was Kel Dor, from Dorin – he's the one who had to wear goggles and a face mask so he could breathe in certain atmospheres. Adi Gallia represented the Tholothian people, Ki-Adi-Mundi with his binary brain represented Cerea. And Mace Windu was chosen to please all the fans who really enjoy watching Samuel L. Jackson do stuff. The Student Section JEDI committee will be similar – a committee dedicated to diversity and inclusion must also be interested in representation.
"Because it's a role through the section for students, that's a very large focus for us – making the student population as diverse and equitable as possible. It's also important to think long-term so that clinicians, researchers, psychologists in general are incorporating those values into their work and their practice. I try to be really mindful of the idea that just increasing the population of students from marginalized groups isn't going to result in meaningful change. That can't be our only strategy. We have to make sure that existing psychologists are thinking this way – who they're recruiting into their labs, what the makeup of their practice looks like."
This idea – that simply recruiting students from diverse backgrounds is not going to result in long-term diversification – is something that is being taken up at the board level of the CPA as well. Alejandra Botia is a third-year psychology student at UBC in counselling psychology, and the Chair of the Student Section. Part of her role as Chair means being the Section representative on the board of directors.
"I joined the board in the summer of 2020, when we were having a lot of discussion around social justice and racial injustice. My favourite part of having joined the CPA in this role is meeting people like Emily, and being on the board around people who work so hard and care so much to come together and have conversations that can be challenging and difficult. It takes a lot of courage and humility to be able to show up in those spaces. What I'm seeing is the board coming together to do that. And I'm so inspired by the students that I've been meeting and encountering as well. Oftentimes it takes even more courage to show up in that space because as students we're often in positions of less power. In my role, I've been trying to advocate for student voices to be heard more and more. One of the wonderful things we did last year was come up with a survey of student members to find out what they would want in Emily's role now. What was important to them? What they wanted us to consider, even up to and including the name. It's there that I can really connect what the student section is doing with what the board is doing."
The members of the Student Section executive have had to do their jobs in a time of unprecedented turmoil, as the pandemic has made virtual meetings the norm. The executive are now all Ki-Adi-Mundi, who never seemed to attend a single Jedi High Council meeting in person and always showed up as a hologram. This has presented difficulties not only for the executive, but for students in general. Emily says,
"The transition to university has been quite difficult through the pandemic, likely more difficult than it would have been otherwise – especially for undergrad students. The transition to online learning has been tough, and a lot of people don't like it. For some it works great, but it has been a real challenge for many. Also being isolated has been very tough for students. A lot of students in my program move away from their home provinces to attend graduate school, so they're leaving living with their parents to living completely alone in a very cold Saskatchewan winter. Being a student is tough, and feeling like you're doing it alone makes it that much more difficult."
Alejandra says that there have also been many practical difficulties, in addition to the isolation.
"Another thing we hear from students a lot is that this has disrupted their research and their practice. Not being able to go to the campus, to conduct research in the ways they were used to, means they have to either get really creative, or put it on pause. Some practicums weren't taking students any more because they couldn't. So having to wait, and maybe delay some of their program requirements because of the pandemic had a lot of students really worried. Financial issues also cropped up – students don't get paid a lot, if anything, and not being able to hold a job you previously had, or take advantage of opportunities you might previously have been able to access."
Connection of any kind in this time has become more important than ever. Mentorship is one of the ways these connections have been established in the student section. Where would Luke Skywalker be without the mentorship of Yoda? Or Anakin without Obi-Wan…never mind that last one. Alejandra was in charge of the CPA student mentorship program last year, and while it was always virtual – undergrad students and their graduate student mentors were rarely in the same city, let alone at the same school – she says it has become more important and helpful than ever during COVID.
"The mentorship program has been great, partly for the connection with another person but also to brainstorm ideas. There were a lot of questions that popped up 'I can't get a practicum, what else can I do?' that kind of thing. It was such an unfamiliar situation, especially for undergrads, that to have someone there to help them through it was a really nice outlet."
The pandemic has exposed many divisions in Canadian society, most particularly in illuminating the inequalities borne by Black, Indigenous, and People of Colour much more heavily than by others. The psychology students of today, and the members of the student section, are no exception. Says Alejandra,
"I think the events we've experienced and witnessed over the past few years have also taken their toll. I'm thinking about Black and Indigenous people and racial injustices and systemic oppression that a lot of people have been experiencing and continue to experience. Also the hate crimes against Asian people, where many students themselves have experienced racially-motivated hate throughout this time. For students of colour it has been a particularly difficult time. That's one of the reasons it's so important to continue to create spaces and opportunities for people to connect with one another."
Emily is now in charge of creating one of those opportunities for connection, through the JEDI initiative. It's just getting off the ground, but she and the rest of the section executive have a particular vision for this new group.
"It's still pretty early days and I want to make sure it's a very collaborative process. In creating the committee, I want to make sure it's as diverse as possible in terms of advocacy groups. I want to make sure we have someone who can focus on disability, someone who can advocate for problems that are relevant to Black folks, that sort of thing. Trying to make sure we have that representation as best we can, without expecting them to speak for an entire community and be the sole perspective! From my perspective, one of the things I really want to advocate for is for Indigenous people. I am Inuk-Settler. My dad's family comes from Nunatsiavut, a stretch of land along the coast of Labrador, so that's something that's personally important to me. I think it is for a lot of folks, especially with the confirmation of graves at residential schools, it's on a lot of peoples' minds. One thing I'd like to do through my role is dive into the Truth and Reconciliation Report and the calls to action. To see what we can do from our perspective and in our role as the Student Section. And to look at where we're at as the field of psychology in general and where we can go from here and what we can implement. I also think it's important to look at COVID and how it's impacted racialized communities in very specific ways because we know the pandemic has disproportionally impacted BIPOC."
What Emily didn't say – but maybe could have said – is "you must unlearn what you have learned…Try not. Do. Or do not. There is no try."
---