Jan. 16-19, 2023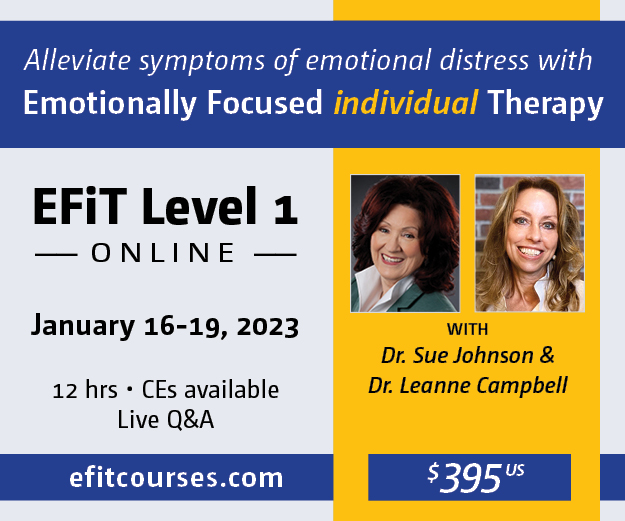 Location: online
Contact Phone Number: (613) 862-3762
Contact E-Mail:
courses@iceeft.com
Event Link:
http://www.efitcourses.com
This workshop introduces EFIT, Emotionally Focused Individual Therapy, an attachment based, experiential model that allows therapists to confidently restructure client's habitual way of constructing moment-to-moment experience and regulating their most difficult emotions. EFIT focuses on helping clients shape a coherent, resilient, secure sense of self, and be able to explore and resolve the deeper emotional pain underlying depression, anxiety and the echoes of trauma.
As in EFT for couples, attachment science offers the EFIT therapist a map that clarifies the nature of client problems and symptoms, specifying the steps in the journey towards emotional balance and the corrective emotional epiphanies that are the essence of significant and lasting change in psychotherapy.
EFIT offers the therapist an empirically based, on target, deeply meaningful pathway to growth and the development of aliveness, showing the therapist how to systematically attune to, and move the client into new models of self and other – into a sense of belonging and becoming.
Participants will learn to:
• Discover the key elements of the attachment perspective on the development of a resilient self, and its significance for clinical intervention.
• Discover and distill core emotional experiences and create transformative moments where clients' vulnerabilities can be faced with emotional balance and competence.
• Identify and begin to implement the five moves of the EFIT Tango to shape corrective emotional experiences.
• Describe the experiential micro-interventions of the EFT/EFIT model (e.g., heightening)
• Outline the path to shaping corrective emotional experiences which restructure negative ways of defining the self, organizing inner experience, and engaging with others.
• Outline how to apply EFIT with clients suffering from a range of symptoms and post-traumatic issues.
Optional CEUs available
Total course time: 12 hours
This training course will be broadcast in three-hour modules over four consecutive days and available for viewing by registrants for two weeks. Full details will be provided to registrants for a live Q&A with Dr. Johnson & Dr. Campbell to be held at the end of the two-week viewing period.
Cost: $395 US
Registration: http://www.efitcourses.com
---