SWC Committee Chair: Dr. Paula Barata (pbarata@uoguelph.ca)
If you are interested in joining this committee or learning more about what may be involved, please contact the SWC Chair. All members of SWAP, including student members, are encouraged to join.
SWC Initiatives
Subcommittee on Leadership, Diversity, and Inclusion (2021)
During the CPA convention in June 2021, SWAP hosted a virtual social event on fostering leadership, diversity, and inclusion within SWAP and CPA. As a result of the event, SWAP is launching a new subcommittee to continue this work. Help us advocate for issues that are important to our members and work to include diverse perspectives related to girls and women in Canadian Psychology. Read our summary to learn more about the virtual social event, the new subcommittee, and how to get involved.
---
Panel on Missing and Murdered Indigenous Women and Girls (2021).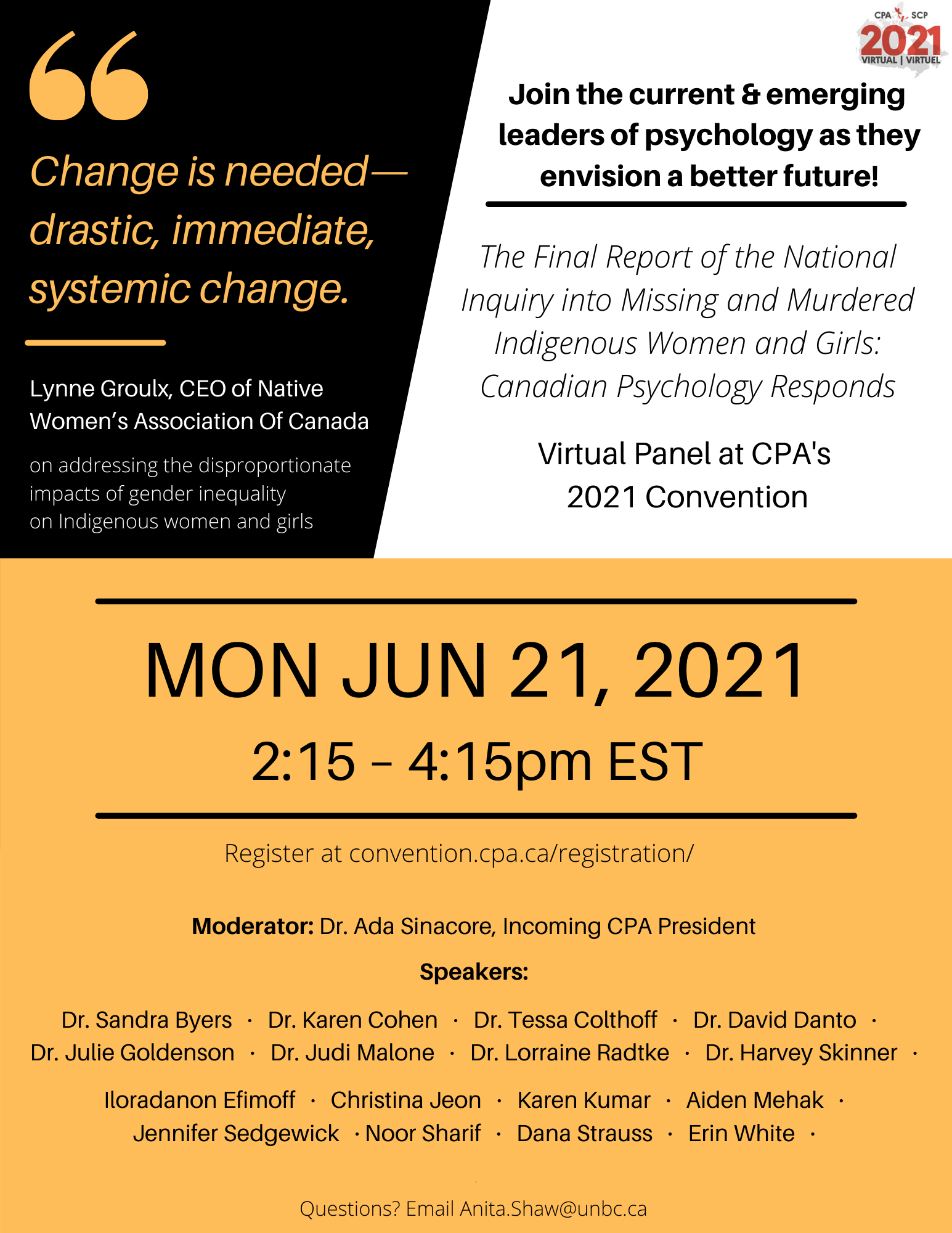 At the 2021 CPA Virtual Convention, the Section on Women and Psychology, Indigenous Peoples' Psychology, Section for Students in Psychology and Rural and Northern Psychology co-sponsored a panel titled "The Final Report of the National Inquiry into Missing and Murdered Indigenous Women and Girls: Canadian Psychology Responds." The panel brought together current and emerging leaders of psychology who each spoke about one of the recommendations from the MMIWG Report, how CPA could address this recommendation, the changes that are needed, and other related comments.
The goal of this event is to foster dialogue and change in the field of psychology. As a first step in this process, panelists Efimoff, Kumar, and Mehak wrote an Executive Summary summarizing the panel event and compiling the audience-panelist Q&A. Conference registrants can watch the panel recording through the conference platform until the end of December 2021.
---
CPA Guidelines for Ethical Psychological Practice with Women (2007)
Jean Pettifor, Judi Malone, and Elizabeth Church co-authored the Guidelines for Ethical Psychological Practice with Women for SWAP's Status of Women Committee (SWC). These guidelines have been approved by the CPA Board.