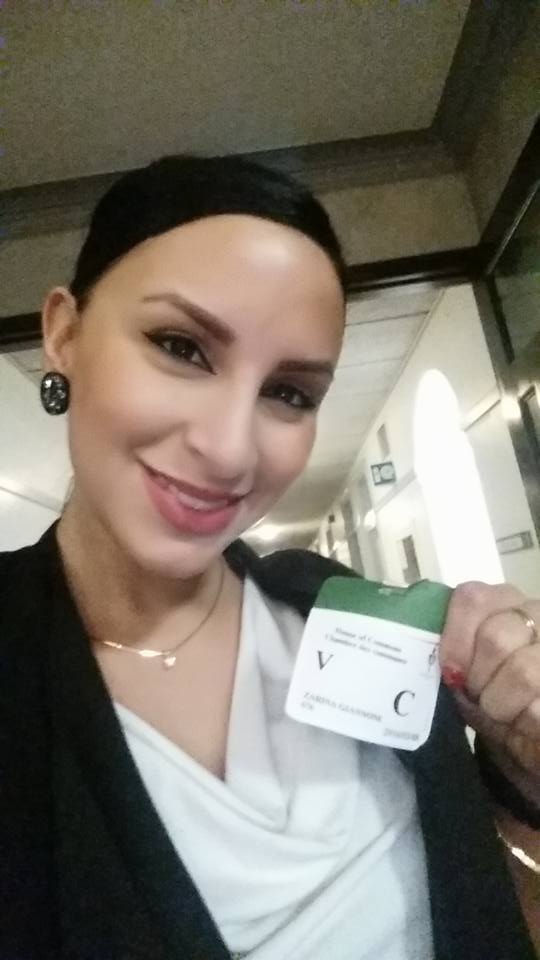 "A pessimist sees the difficulty in every opportunity. An optimist sees the opportunity in every difficulty."
– unknown
Zarina Giannone lives by the principle of creating, grasping, and making the most of every opportunity she can. When I spoke with her, we attributed this quote to Winston Churchill – almost everyone does. On further investigation, however, there is no evidence that Churchill ever said this. The earliest known utterance of a similar sentiment was by the Mayor of Carlisle, Bertram Carr, in 1919, as he addressed the Fifty-First Annual Cooperative Congress in the middle of a global pandemic.
The provenance of the quote is, of course, immaterial. It is quite likely that this was a saying that circulated England for many years before being transcribed from Bertram's speech. I just happen to be the person who has the time to look up such things as the provenance of quotes. Zarina Giannone is not that person – she is too busy seizing real opportunities.
One of those opportunities was her election to the CPA Board of Directors as the Student Representative. Zarina had been a student rep, and from there took on role after role until finally making this step in the first year of her Master's. She says of her three year term on the CPA Board,
"Seriously, it goes down in the books as the most important part of my training to date. Even counting my seven years of graduate school, the experience [of sitting on the Board] was the most valuable to me. Because of the people I met and learned from, but also just to see the system, how it works across the country. After my term ended on the board, I was elected to the BC Psychological Association Board, where I've just now come to the end of my three-year term. I'm now a senior student, and with the experience I had with the CPA Board, I have a lot more to contribute."
There are many important parts of Zarina's training, not all of them academic. For many years, she was an elite-level soccer player, going to UBC on an athletic scholarship and playing for the Thunderbirds for the duration of that scholarship. In fact, she focused so much on soccer at that time that she neglected her studies a little bit – it was her boyfriend at the time (now fiancé – more on that later) who encouraged her to dive more heavily into her studies, and her love for the field of psychology took off from there.
Zarina's experiences as a high-performance athlete come in to play all the time for her now, as she works with sports teams as a mental performance consultant. In her job at the Vancouver Psychology Centre, she provides two different services, broadly speaking. One is performance related – how do you achieve peak performance, how do you get around barriers like choking or performance anxiety. The other is on the clinical side, where she deals with clinical psychological issues in sports. These might be anxiety-related, depressive symptoms, trauma-related challenges, disordered eating, and that kind of thing.
All these things – soccer, scholarships, the CPA Student Rep Program, the Student Section, the Boards, the job at Vancouver Psychology Centre, are opportunities Zarina has seized when they presented themselves. But she is also, by nature, a creator of opportunity as well. In 2015, she was learning about the systems-level approach to education and psychology from her position on the CPA Board of Directors, and also representing students on the section level as the Chair of the Student Executive.
TAKE FIVE WITH ZARINA GIANNONE
What is the psychological concept (bystander apathy, confirmation bias, that sort of thing) that blew you away when you first heard it?
There are so many… psychology is so rich with little tidbits that are mind-boggling, and I'm always impressed with something new. One specific thing might be attribution error. It's peoples' tendency to underemphasize situational factors when explaining other peoples' behaviour, and to over-emphasize personality-based factors or dispositional factors to explain behaviour. The more I work with clients, the more I see that error happening. People attribute the behaviour of other people to being a bad person, or a mean person, versus something that was happening for or to that person in their own context.
Do you have a sport that you like to watch or play, and what is it?
I got into soccer very early, before I was 5. I played with an older age group, went into the provincial program and then into the youth National program. I got recruited to UBC on scholarship in Grade 12, and played out my scholarship at UBC. I also got a chance to play one season at Cardiff University in the UK. After I came back, I took up boxing and suffered a back strain, and so that changed things a lot – I play just for fun at this point, I like the co-ed leagues where I can push the guys around. Soccer still holds a huge place in my heart, and I love watching international tournaments whenever they happen. Go Italia!
You can listen to only one musical artist/group for the rest of your life. Who is it?
This one's a bit embarrassing… one of my favourites is Sean Paul. He was really big when I was back in high school. I don't care where I am, when I hear a Sean Paul song it puts me in a good mood and takes me back. If I could have anyone perform at my wedding, it would be Sean Paul.
If you could spend a day in someone else's shoes who would it be and why
One of my role models, and a person that's so interesting to me, is Michael Jordan. I've always been a huge fan, and I think he is a textbook case study of drive and competitiveness, and obviously his track record of being the best player of all time. I'd love to spend a day in his brain to see how he does it. And I think if we could take a little of that and spread it throughout sports, then sports might change a lot.
If you could become an expert at something outside psychology, what would it be?
I attribute this to my experiences being on the boards I've served on. I think it's in politics. We want so badly to effect change within our field of psychology and we do – at the individual, group, and sometimes organizational level. But to be able to have that kind of impact on a systems level, on a larger scale, I would love to be able to effect change in that way. To really represent and advocate and be involved in changes that I see as important.
She noted issues and challenges that she had experienced as a student – having to be really resourceful throughout the various steps of her training, and not having enough information available and accessible to her. Out of this need, the Student Mentorship Program was born. Zarina realized that connecting students with one another across the country could alleviate some of these stresses for students just starting out, by pairing them with older students who had gone through the same process and could direct them in constructive ways.
Mentors are graduate-level students, while mentees are undergrads or early graduate level students. Most psychology students, by virtue of the fact that they are taking similar courses in similar subjects and following similar career paths, have a lot in common. They share a career passion and a course load, for example. But Zarina thought there could be more to the mentor-mentee relationship than simply subject matter.
When students signed up to be on either side of this partnership, they would fill out forms. What area are you hoping to go into? What are some of your interests? What would you like to get out of the mentoring relationship? Once those questions had been answered, Zarina and her colleagues from the Student Section Executive would match mentors and mentees based on shared goals, interests, and other commonalities. Kind of like a matchmaking service, in a non-romantic sense. And one that proved to be a little bit COVID-proof, since students were connecting virtually with mentors from universities all across Canada for the program.
Not all things, however, are COVID-proof, and not all things are non-romantic. Though Zarina says she hasn't had too many problems with school, or work, since the pandemic began, one big thing remains undone. Remember that boyfriend, now fiancé, who encouraged her to get more into psychology? She was scheduled to marry him in Mexico, in November.
Even the most prepared among us, those accustomed to turning every difficulty into an opportunity, are sometimes confronted by a disappointment beyond our control. It is in this case that Zarina sees that one opportunity that exists in all circumstances – the opportunity to learn something.
"We're going to postpone it, and hopefully have it in November of next year. Or…whenever it's possible. We'll figure it out, we'll work through it, we'll learn. I think it's such a privilege that our whole lives we can be learning. I'm always reminded of the things I don't know. On his death bed Michelangelo was in the middle of painting a fresco, and he told someone near him 'ancora imparo'. 'I'm still learning'. That's kind of my attitude too."
Zarina is far from the end of her days, as she is just starting her career in psychology, has just finished her PhD, and is about to start life as a married person. That leaves a lot of life, and a lot of learning, to do. And Zarina is on her way to experiencing it all.
Postscript: Michelangelo really did say 'ancora imparo' on his death bed, that quote checks out.