Stephanie Woolridge and Ava Homiar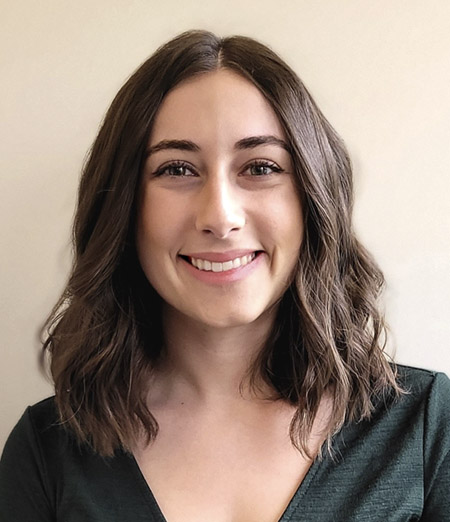 Stephanie Woolridge
"My favourite book is called House of Leaves, by Mark Z. Danielewski. It's like a part horror, part romance, part…academic? It's a really interesting book with a fascinating page layout!"
Stephanie Woolridge is gesturing to the bookshelf behind her, situated dead centre in her Zoom screen and just visible on either side of her head. Ava Homiar chimes in, moving to one side so that her own bookshelf can be seen behind her head while she points toward it.
"I actually have that one on my bookshelf right now! The pages are just so interesting and it's such a unique book!"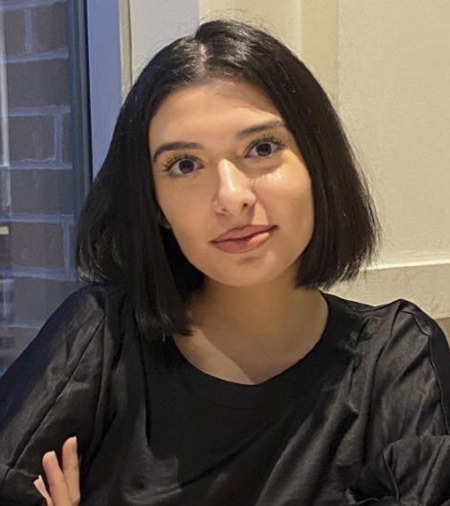 Ava Homiar
The system works! Much like online matchmaking sites that purport to connect people via shared interests (we both listen to music and eat food! We should date!) the CPA Student Section's Mentorship Program endeavours to connect mentors and mentees based on common goals and experiences. Undergrad students looking to pursue a research career, for example, are paired with grad students on the same path. They can help with applications to grad school, academic advice, and sometimes a lot more!
Such is the case for Stephanie Woolridge and Ava Homiar, who were connected through the program in September of 2020 – and then again in 2021 – and just recently in 2022 as well! Steph is going into the fourth year of her PhD at Queen's in clinical psychology, while Ava is in the third year of the honours life science program, specializing in psychology, at McMaster. They share much more than a plain-white-wall-with-a-bookshelf-in-the-centre Zoom background.
Interviewer: "If you could spend a day in someone else's shoes who would it be and why?"
Stephanie: "Anyone who goes to the International Space Station, like an astronaut. So few people get to do that and it would be so cool to be able to go up there for a day, say 'this was dope' then get back to my regular life."
Ava: "Oh my gosh I was going to say astronaut too! I guess now I have to give a different answer. But astronaut would just be so fun!"
TAKE FIVE WITH STEPHANIE WOOLRIDGE AND AVA HOMIAR
What is the psychological concept (bystander apathy, confirmation bias, that sort of thing) that blew you away when you first heard it?
Ava: "I first learned about false memory creation in my forensic psychology course. It really blew my mind – I'd heard of false memories before, but just seeing the psychology behind it and how it translates into real life events is really interesting to me."
Stephanie: "One of the things that really stands out to me is social baseline theory. It's mostly about how social relationships are associated with improved well-being, which we all know. But there were studies done that show that when human beings are under threat, the emotion regulation parts of our brains are less active when you're holding hands with another person. So if we're in a threatening situation, we have to put in a lot less emotional effort when that person is next to us. Our brains have to work a whole lot harder when you're alone."
You can listen to only one musical artist/group for the rest of your life. Who is it?
Ava: "BTS. They have such a large and diverse discography that I don't think I could ever get tired of listening to them. And they're also amazing people so I feel good listening to them."
Stephanie: "This is really hard! Right now the band I'm listening to the most is Rainbow Kitten Surprise. [Editor's note – imagine what you think a band called 'Rainbow Kitten Surprise' would sound like. It does not sound like that.] They're in constant competition with another artist called Radical Face, which I also adore…I'm kind of cheating by picking the two that are always battling it out for my top spot. All their albums are bangers, the music is always so good, I could listen to it on repeat forever!"
Do you have a sport? What is it and do you watch, play, follow it?
Ava: "I used to play tennis when I was younger, but I don't any more – I am currently without a sport! I do always love watching figure skating, especially when the Olympics comes on. The artistry of the skaters is astonishing!"
Stephanie: "I played soccer competitively for many years, but I tore my quad so I stopped playing. I still run, but I love watching soccer on TV. Even if it's ninety minutes with one goal, I'm happy!"
Favourite quote
Ava: "It's from the Herman Hesse book Siddhartha, 'I can think I can wait I can fast'. It's a coming-of-age book that explores the value of being resilient, and that quote encapsulates the theme."
Stephanie: "It's from a book by Glennon Doyle, 'if you can't beat fear, do it scared'. I think it was popularized because Will Smith said it at some point – but I've always loved the quote and I feel like mental-health-wise it ties into a lot of the work I do."
If you could become an expert at something outside psychology, what would it be?
Ava: "I would love to be totally immersed in the field of philosophy, and dedicate all my time to being involved in modern philosophical discussion and have the bandwidth and education to be able do that. I think I'd also love to be an expert in art history too – something like the history of religious art.
Stephanie: "I feel like in another life I was a classicist in some way. In first year I studied archaeology and ancient Greece and ancient Rome, and I think that would have been such a cool career path to be curating a museum or something. All the history and the culture from back in the day, I've always loved that."
They are both first-generation university students, the first people in their respective families to take a scientific path. For Steph, that made things pretty difficult during her undergraduate studies, as she didn't have family she could turn to for advice related to research or graduate studies. For Ava, things are a little bit easier because she does have one person to provide that guidance – Steph.
Both Ava and Steph started university without planning to major in psychology. Steph thought it would be a good jumping off point for other career paths, like medicine or law. Ava was taking more hard science classes, at the urging of her parents. Both ended up pursuing psychology as a career path thanks to a love for lab work and social research, and as of their second or third years their paths were set. Steph's research at Queen's is predominantly in early psychosis, with an emphasis on things like social cognition, interpersonal relationships, intimacy and sexuality. At McMaster, Ava is doing research involving the Schizophrenia & Community Integration Services program at St. Joseph's hospital.
For a long time during her undergraduate studies Ava was searching for mentors who could help her navigate the post-secondary system, but was having a tough time finding anyone who could provide the specific kind of assistance she was seeking. During that time, 300 km away, Steph was mentoring people in a number of different ways. She says,
"I've always taken on mentorship roles throughout my degree. I've been a mentor for undergraduate students here at Queen's, and I'm still a mentor for graduate students in my department. It's something I've always really enjoyed. I've felt very privileged to have had access to mentors who have supported me throughout my career, so the opportunity to do that for someone else or to pay it forward a little bit was a great one since I know how valuable it is."
When an email came to Steph's inbox advertising the CPA's Student Mentorship program, she jumped at the chance right away, knowing how valuable her insight could be for someone starting out on the same path she once took. Meanwhile, Ava was searching everywhere for a mentor who could help her. Google led her to the CPA, where she became a Student Affiliate. From there, she found the mentorship program – and Steph. Says Ava,
"When you sign up for the mentorship program, they ask you about your interests and what you're thinking about doing in your future. You then get matched with someone who's close to your area of interest – and I think they were really spot-on with our match! Steph and I are in the same field, have lots of stuff to talk about, and she's provided me with great support where I'm able to talk to her related to academics and the career field I want to be in. Having that extra guidance has really affected my academic and career choices as well. I think everyone knows about mentors who can help you with school and career and grad school applications, but in Steph I've found a mentor who's a friend. We talk about our personal lives, and with everything that's going on around us that's been really helpful for me too!"
The mentor-mentee relationship has benefits for both parties. It isn't always an older student providing a road map for a younger one. Very often, the graduate student gets just as much out of the partnership. Steph says this is certainly the case for her.
"Over the past two years it's just been such a privilege to hear about all the stuff Ava's been doing, to see all she's accomplished, and to be a part of all the conversations we've had. In second year, applying for her first positions, to where we are now thinking about grad school – it has really been a honour for me to be able to bear witness to Ava's growth and accomplishments. I'm excited to see what she does next!"
Steph is a little closer than Ava to entering the workforce and putting all her knowledge to use, but both have a pretty similar career path in mind – no matter where they end up, they both want it to be somewhere where they get to do research. Lots and lots of research. So look for them to be featured together again in the future – as co-authors on a paper, as colleagues and collaborators, and, one presumes, as lifelong friends.