"If you could walk in someone else's shoes for just one day, who would it be?"
"It would have to be a famous and brilliant mathematician like Nicolas Copernicus, because my brain seems to shut down whenever I'm given a task involving any sort of math. So I feel like being able to switch brains with a mathematician and seeing what happens in their head would be quite interesting."
It's not random that Nicole Boles chose Nicolas Copernicus, of all the famous mathematicians. Copernicus was the mathematician and astronomer who, in the Renaissance era, proposed a model of the universe that had the sun at the centre of it, rather than the Earth. He had, one can assume, a very interesting head in which a psychologist could spend a day. He was also Polish.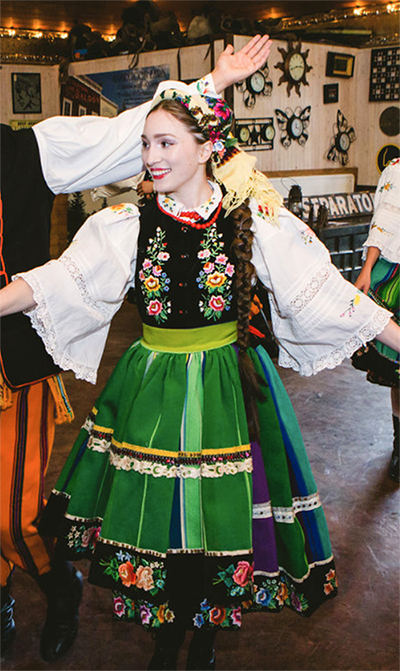 Nicole is very much connected to her Polish heritage. She still speaks Polish, although she says it's getting a little rusty and she needs to keep it up so as not to lose it. She has deep connections with the Polish community in Calgary, and at the University of Calgary where she studies. And she's actually been to Poland, traveling there with friends as part of a Polish folk dancing group. She was part of that group until her third year of university, when she found her specific passion, and quit to focus on her studies.
Now a fifth-year student at the University of Calgary, Nicole is going to apply to graduate schools throughout the year, with an eye toward studying speech and language pathology. She is also working as a literacy instructor by following a one on one literacy program aiming at strengthening children's oral and written language skills. This was the passion she discovered in third year, and she is heading in a straight line toward the ultimate goal – working with children to help them with speech, language, and communication.
Nicole is also the Undergraduate Student Affairs Officer for the Canadian Psychological Association. That means she manages the student representative program. Recruiting members and prospective applicants, ensuring constant communication with those members, applicants, and current representatives. Nicole also collects and distributes reports from each campus.
TAKE FIVE with Nicole Boles
What is the psychological concept that blew you away when you first heard it?
A recent one is the Whorfian hypothesis. This is, basically, the idea that language influences thought in a certain way. People who speak different languages will construe reality in different ways. For example, Russian speakers divide light and dark blues. That is, they have a term for light blue and another term for dark blue. And research has shown that they can distinguish between these two colours at a faster rate than English speakers. The difference is not that English speakers are unable to distinguish between light blue and dark blue, but that Russian speakers are unable to avoid making that distinction.
You can listen to only one musical artist/group for the rest of your life. Who is it?
I grew up listening to Fleetwood Mac, and that would have to be it. And the catalogue would be a lot wider if I can throw in the spinoffs – Steve Nicks solo, the Buckingham-McVie stuff. I actually attended Fleetwood Mac's final concert, which was very special.
Top three websites or apps you could not live without and why
My camera app. Also Apple Notes, because I always need to write down everything and I need it to be in once place or else I'll inevitably forget or lose it. And…does the phone app itself count as an app on a phone? Like making phone calls? I need that one too.
Favourite book
My favourite book, hands down, is Kids These Days. It's a game-changing book by a clinical psychologist named Dr. Jody Carrington. She offers strategies to educators, teachers, bus drivers, etcetera to re-connect with "kids these days". I work with children, so I could really empathize with certain aspects of this book, and I would highly recommend it to anyone who works with kids or has worked with kids in the past.
Favourite quote
"If you want something done right, ask a busy person." I feel like there's nothing truer than that.
"I wasn't really aware that CPA even existed until [that] third year as a university student. At that point I was now involved in research, and I had found my specialization, and I got a job related to it. At that time I became a little more involved with the psychology association on my campus, and they brought up CPA. It was super-cool to see that there's this higher-level association working to promote psychology. I knew I was going to want to be more involved."
Fortunately, the COVID-19 pandemic has not affected her duties as the Undergrad Officer very much – a lot of the job is sending and receiving emails from all over Canada, and very little of the job in the past has been done in person. It's the school year itself that might be a little more tumultuous, as Nicole will be taking her fifth year entirely online. She realizes that she'll have to adapt her learning style a little bit, to become more of a self-directed learner than she has been up to this point.
That includes the more difficult assignments and research projects – the ones involving math. Though she may struggle with math, Nicole is driven and ambitious and has a goal in mind. I get the sense that could she actually live for a day in the head of Copernicus, she would emerge a competent, if not a brilliant, mathematician herself.
For the time being though, Nicole is going to struggle through math, adjust to full-time online learning, and complete her fifth year at the University of Calgary. She's also going to spend the next two years as the Undergraduate Student Affairs Officer at the CPA, helping undergrads navigate this brand new world in which they find themselves.
"I really like working for an organization that allows you to work closely with professionals in the field, and I really want to reach out to undergrads, so I'm looking forward to that. I know that for me personally it was a bit of a struggle transitioning from high school to university, and I'm sure that's a hurdle that many students face. So I feel pretty proud to be part of CPA, because they strive to make students feel more at ease, more confident, and more supported."
Nicole is certainly at ease when we speak, and she is confident in her abilities and in her chosen career path. It's a straight line toward the future, helping children with speech and language difficulties. And it's also a straight line from the past, a past which Nicole is intentionally bringing along with her. One day, she will be helping with communication in both English and French. And who knows? Perhaps in Polish as well.