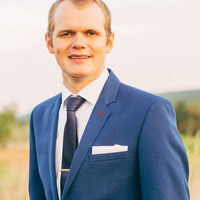 Marais Bester
In the growing field of Aviation Psychology, PhD psychologists are increasingly being hired to help keep air travel safe. One of them is Dr. Marais Bester, a Manager of Assessments and Psychology at Qatar Airways.
Marais Bester
Despite some tragic news stories in the past few years, air travel remains the safest mode of mass transportation. It can seem otherwise, as plane crashes make the news far more often than motorcycle accidents and sinking boats. But a lot goes into putting planes in the air, and just as much effort goes into keeping people safe while they're up there.
A lot of those safety protocols are the purview of a rapidly-growing discipline, that of aviation psychology. Dr. Marais Bester has been in that field for more than five years, since graduating with a PhD in Industrial Psychology from the University of South Africa. Seven months ago, he moved from Dubai to Qatar to become a Manager of Assessments and Psychology at Qatar Airways.
Working with a team of two other Industrial/Organizational Psychology PhDs, Marais is responsible for ensuring that the personnel operating Qatar Airways aircraft are healthy, supported, and working well with their teams. This begins with psychometrics for talent acquisition (the job interview process) and continues through talent development (workshops, trust, resilience and team building).
Pilots must be resilient and cope well with pressure. They also must be one of those rare individuals who are both meticulous rule followers and are able to think on their feet and act very quickly. The cabin crew must be open to diversity and embrace new experiences, and have a high aptitude for teamwork and cooperation.
Like the employees with whom he works, Marais is always learning and changing at his own job. He is implementing best practices and creating new standards all the time. He maintains membership in the British Psychological Society and the European Association for Aviation Psychology (EAAP), to connect with like-minded people in this quickly growing field.
After a tragic incident in 2015 when a German co-pilot took his own life, and the lives of his passengers with him, the International Air Transportation Association (IATA) has required airlines to have psychologists on staff. This is one of the reasons the field is growing so quickly around the world, which Marais thinks is wonderful – after all, it will make air travel even safer than it already is. He quotes Richard Branson:
"Clients do not come first. Employees come first. If you take care of your employees, they will take care of the clients."
So Marais and his team take care of their employees, through career facilitation and coaching, career guidance, psychometrics and team building. And in doing so they are not only helping those pilots and crew members in their lives, they are helping to make the skies safer for all of us.