Canada's student written, edited and published psychology newsletter.
Editor-in-Chief:
Alejandra Botia
University of British Columbia
Email: pastchair.cpastudentsection@gmail.com
Mind Pad Winter 2022 – Volume 10, Issue 1. Full Issue: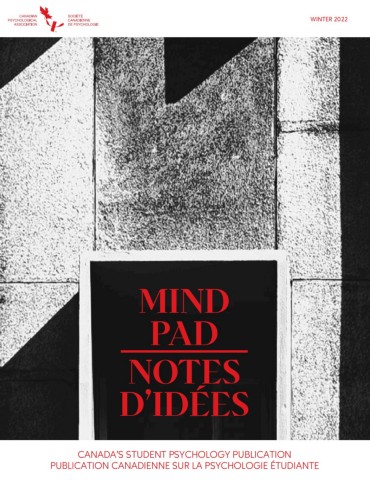 or (PDF)
---
Mind Pad Mandate
Mind Pad has two mandated goals:
It aims to provide a professional newsletter that is written and reviewed by students of psychology who are affiliates of the Canadian Psychological Association. The content of the newsletter should be of interest to all who are practicing and studying psychology, but the primary audience of the newsletter are students of psychology.
It aims to offer studying psychology researchers and writers an opportunity to experience a formal submission process, including submission, review, and resubmission from the points of view of both submitter and reviewer/editor.
Mind Pad publishes a range of submissions, including:
Original research summaries (clinical or fundamental);
Review summaries;
Psychology career-related articles;
Commentaries on new trends in psychology or psychology research;
Commentaries on psychology in the media;
Reports on conferences or workshops attended.
Students who are not enrolled in psychology programs may also submit a manuscript to the journal, if its subject-matter falls within one of the subfields of psychology.
We accept submissions on a rolling basis throughout the year.
---
Mind Pad Frequently Asked Questions
What is Mind Pad?
Mind Pad is a newsletter publication written, edited, and published by the CPA Section for students. All articles are peer reviewed by an editorial board composed of undergraduate and graduate students in psychology. Mind Pad is not an indexed journal.
How do I cite my Mind Pad article on my CV?
You can list your Mind Pad article on your CV using an APA format. For example:
Daskaluk, S. (2008). The interaction between child and parent characteristics on child outcomes. Mind Pad, 8(1), 8-12.
Once your article is officially accepted by the Mind Pad Editor-in-Chief, you may list it on your CV as "in press" until it is published in next Mind Pad issue.
How do I submit an article for consideration in Mind Pad?
All manuscript must be submitted using the submission template. Submissions guidelines can be found on the Editorial Policy page.
I have submitted my article – now what?
The Mind Pad editorial board is committed to completing a first review of submitted articles within a month of receiving the submission. After this initial review period, the Associate Editor will notify the submitter of the status of his or her submission. This may include acceptance, requests for editorial changes, rejection, etc. Unless the manuscript is rejected, the submitter is invited to revise and resubmit within two weeks. The reviewers will review the second version of the article. A final decision will then be communicated to the author. (Please note that more rounds of reviews may be required.)
I want to join the Mind Pad editorial board. How do I apply?
Applications for positions on the Mind Pad editorial board are accepted in late August or early September every year. The incoming Editor-in-Chief will post a notice on the Mind Pad website with an application deadline and will send a call for applications email through the CPA Section for Students listserv. General instructions and details about available positions, and this years application deadline, can be found here.
---